Information for Visitors
The Information/Educational Centre "Russian Museum: Virtual Branch" was opened on 9th April 2008.
Address: Museum Centre, 49 Neftchilar Avenue, Baku, Azerbaijan, AZ1000.
Principal: The Director of the Museum Centre, Liana Vezirova.
Tel: +99412 493 72 87, + 99412 493 58 83
Email: museum@museumcenter.az
Working regime of the Information/Educational Centre: Monday, Tuesday, Wednesday, Thursday, Friday and Saturday (open only by request of organised groups).
Non-working days: Saturday, Sunday.
Working hours: from 10.00 to 18.00.
For information call: +99412 493 58 83.
To order a lecture on a theme of interest, call: +99412 493 58 83.
There is a periodically renewed programme in the multi-media cinema for visitors.
Multi-media Cinema Programme
- Virtual walk with Alexander III
- The history of Mikhailovsky Castle
- Mikhailovsky Castle. Real and Virtual
- Architectural self-portrait of Paul I
- Renewal of the Summer Garden
- The virtual world of the Russian Museum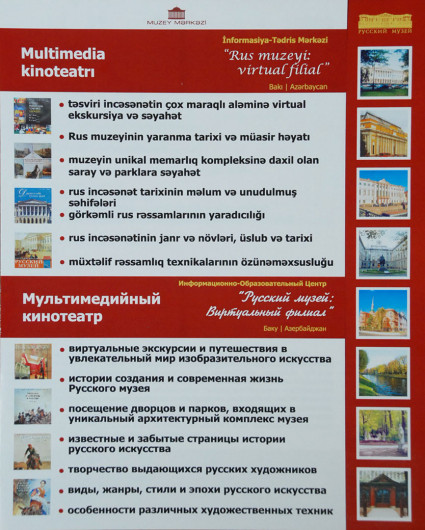 Russian Museum – for children. Educational programmes.
-You arrived at the museum
- How to look at paintings
- The birth of a painting: study, sketch, composition
- The birth of a painting: from nature to the character of art
- Portrait
- Portrait. The artist and time
- Landscape
- Still Life
- Drawing
- Water Colour
- Engraving
- Sculpture
- Folk Art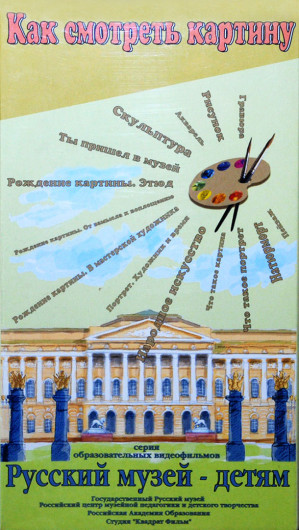 On the first floor of the Museum Centre there is an electronic kiosk, containing all the important information about the virtual branch and the working regime of the multi-media cinema.