Assembly hall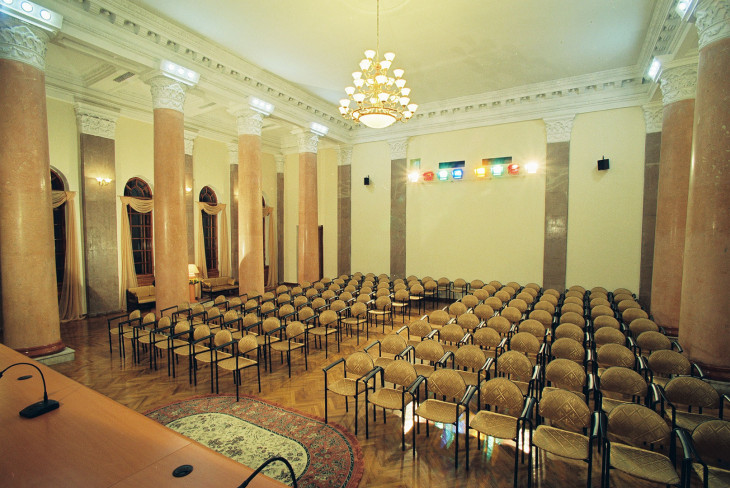 The Assembly Hall (240 m2), designed to seat 150, is located between the second and third floors of the building. Different events are held here – conferences, symposia, seminars, round tables, business meetings, panels of experts, concerts, congresses of different arts organizations and unions, cinema evenings and ballroom-dance competitions. The luxurious premises combine, in unique fashion, the architecture of the past century and the innovations of modern euro-design.
The hall is equipped with all the necessary audio facilities. The tables and chairs can be freely moved around, depending on the character and the mood of the event.
Many interesting and different events have been held in the hall. Among them are the "TURSKOY" meeting, a conference of the Ministers of Culture of the CIS countries, a joint conference of the Ministry of Culture of Azerbaijan and the Council of Europe, the International Conference of the Ministry of Culture and UNESCO on the preservation of the cultural heritage site "Icheri Sheher", seminars on Azerbaijani carpets and folk and fine arts, seminars of the SOROS fund, Francophone Days in Azerbaijan, ballroom-dance competitions, memorial evenings for many eminent people of science, art and culture, presentations of the video clips and discs of Azerbaijani pop singers, the opening of the Information-Education Centre "Russian Museum: Virtual Branch", the presentation of Chingiz Farzaliyev's book "Anthology of Azerbaijani Painting", dedicated to the 85th anniversary of Heydar Aliyev, an international forum of culture experts, an IKOMA conference, the presentation of the "Baku" website, within the framework of "2009 – Baku, Capital of Islamic Culture", a concert of women composers of Azerbaijan, round table meetings etc.