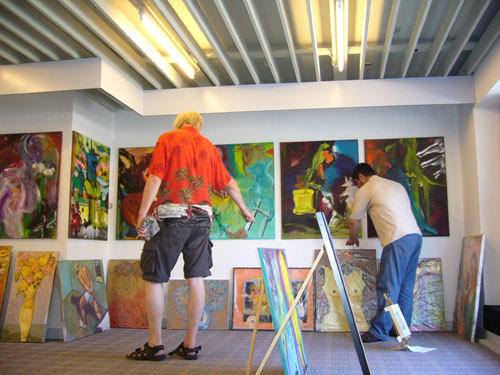 Participating in the international festival of Culture and art of city Rodbi, Dania
From 1 for August till 8 in town Rudi (south of Denmark) the annual international festival of Culture and Art devoted to the actual to date theme of «Global Rise in temperature, passed in the Central Gallery of Art of «Sigvardson».
In this festival participated artists from 18 countries: Australia, Azerbaijan, Brazil, Burkina Faso, Canada, Chile, Denmark, Ecuador, USA, Israel, Gabon, Germany, Korea, Mexico, Sweden, Nepal, Greece, Tanzania.
Azerbaijan was firstly presented in this festival by works of artists known not only in Azerbaijan but also far outside the republic: Niyaz Nadzhafov, Vugar Muradov, Rashid Ismael, Eldar Babazade.An exhibition passed with grandiose success. Guests admired works of the Azerbaijanian artists and showed large interest to our culture.
Company MAERSK and Azerbaijan supported participating of Azerbaijanian delegation in a festival. Museum Center was presented by Manager of Department of Cultural Development and International Relations Amina Melikova, the exhibition of Azerbaijanian Art Designer was collected by Sibil Vezirova, and a young artist Niyaz Nadzhafov staggered all present by interactive of sketching during the opening, in which presented Mayor of city Rodbi, members of parliament and politicians.
On completion of festival Museum Center got invitation to participate in other international projects.