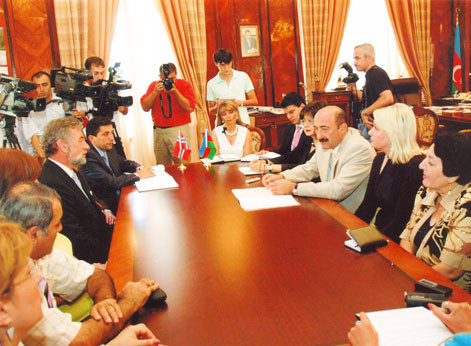 International Project: Cooperation between museums of Azerbaijan and Norway
In 2007, Baku Museum Centre of Azerbaijan and Archaeological Museum of Stavanger, Norway signed a partnership agreement within the framework of Azerbaijan-Norway cultural cooperation.
The director of the Museum Centre Liana Vezirova and head of international relations and cultural development department Amina Melikova took part in this workshop.
The main objective of the aforementioned greement was the enhancement of the relationships and cooperation between the museums of Azerbaijan and Norway that were established during the "Karavansaray, Azerbaijan - Land of Fire" exhibition. The objective of this exhibition was the further development of relationships between two countries, expansion of the authority of museum personnel in both countries, familiarisation with the methods of work, share of experience, introduction of new lines, new ideas in the activity of museums, the path to better understanding of culture and peculiarities of the countries.
Management of handling of museum collections, ethical practice in museum, roles and duties of museums to attendants were the key points of the project.
The aforementioned project was implemented in 2007 and 2008. The first workshop was held in Baku in February 2008, the second workshop – in Oslo and Stavanger in May 2008 and completed with final meeting of Azerbaijan and Norway museum specialists in Baku in November 2008.
15 participants were represented by different museums and other institutions of the Ministry of Culture and Tourism of the Azerbaijan Republic and 9 participants were from Norway – the experts of museums, restoration and conservation.